N Scale Free-mo
The official website for N scale free-mo modular railroading.
Free-mo is a modular scale railroading standard designed for individual modellers that specifies bench work, track work, scenery and digital control intended to raise-the-bar for scale modular railroading in general and, in this case, for N scale modular railroading.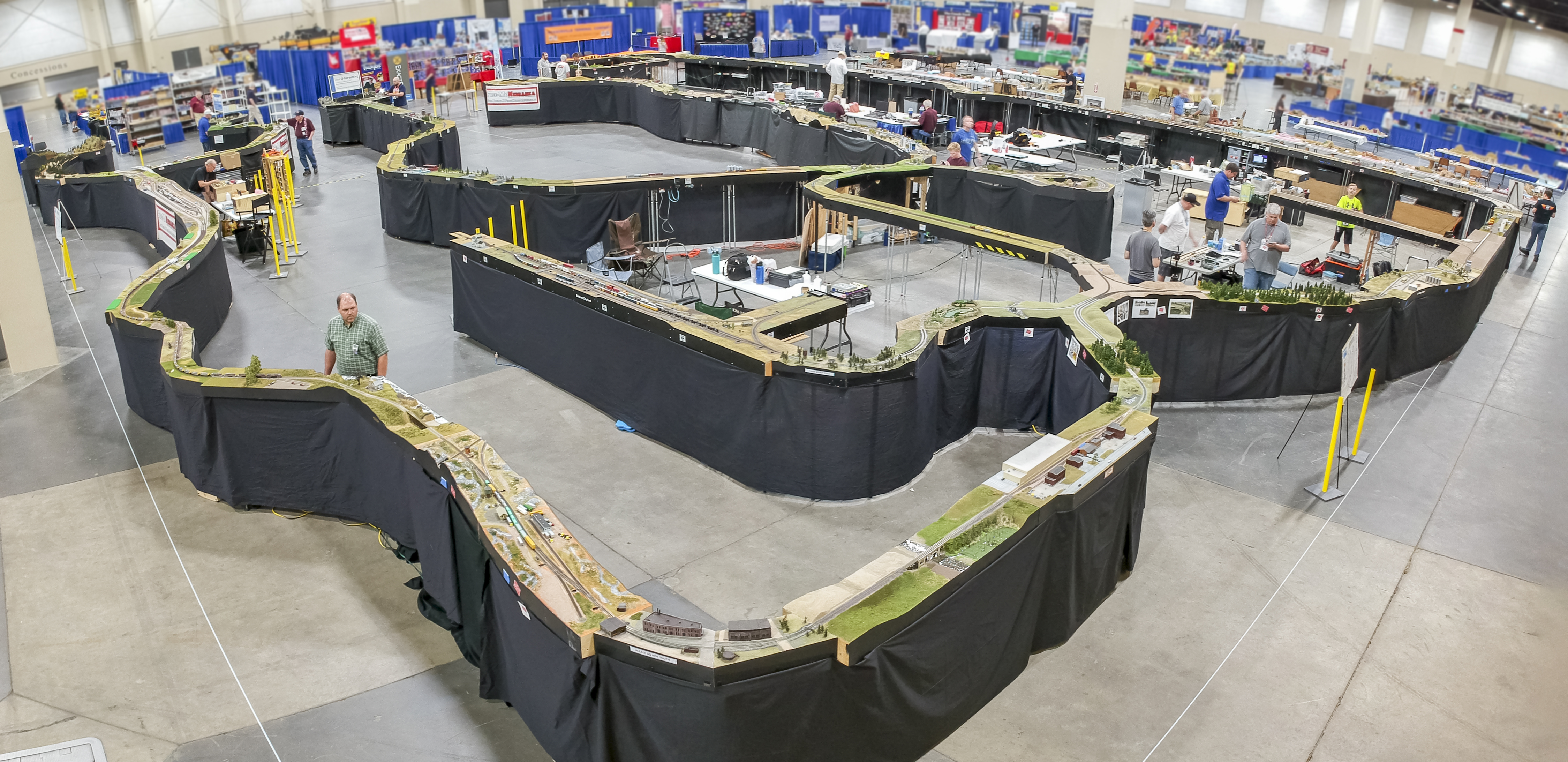 The Free-moN layout at the National Train Show in Salt Lake City,UT, July,2019 (Mark Watson photo)
The standard promotes, and even forces, prototypical appearance and operations by using a single main line traversing the center of the module resulting in prototypical point-to-point or loop-to-loop configurations and operation.
The Spirit of Free-mo
The following list summarizes the spirit and benefits of free-moN over existing modular N scale standards:
Designed to satisfy the needs of the advanced modeler over the needs of the beginner and general public.
Incorporates a comfortable working and viewing height for adults of 50" from the floor.
Specifies Code 55 rail for the main with a minimum 22" radius and #6 turnouts.
Encourages layouts that are optimized for prototypical look and operations by specifying a single mainline down the middle of the module.
Maximizes flexibility for module design and shape by specifying only the end-plate interface and mainline track standards.
Simple end-plate specification allows for easy integration into home layouts.
Encourages a loose association among individuals free of club or group requirements, membership, dues, etc.
Standardized scenery at the end-plates (to merge visually with adjacent modules).
DCC/LocoNet/Digitrax control throughout for maximum flexibility.
Rolling stock that meets or exceeds NMRA standards for reliability.
These standards allow for module construction that is free form between the end-plates resulting in flexible and adaptable layout configurations to fit any available space.
The Free-moN standard was created by Wesley Steiner in 2002 and published in early 2004. It is actively maintained by the Free-moN Steering Commitee and the Free-moN Google group (formerly a Yahoo! Group). Come join the discussions and see what is developing. Many participants across the country and around the world are building modules and operating free-moN layouts.
For a list of issues the Free-moN Steering Commitee is currently discussing, please see the Free-moN Issues List on GitHub.
A link to Dave Falkenburg's very impressive free-moN slide show that adds some flair to the relatively dry standards document.
A link to a drawing of one possible module construction technique using 2" blue foam and plywood.